Posted by

AJ Health and Wealth

on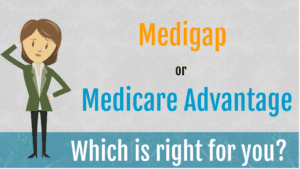 Original Medicare is perfect for many people because it covers most of the priciest healthcare treatments you can get – mainly the hospital stays and the moderately-priced outpatient appointments that stack up to make up a higher expense.
Medicare Advantage and Medicare Supplements are the extras for those who need Medicare coverage with extra benefits. But there are things you should know before enrolling.
You can't have both
You can't have both. This is why when you read about Medicare Advantage and Medicare Supplements mentioned together, the words "or" and "vs." pop up frequently. The law is firm about having one or the other, too. It's illegal for your insurer to sell you a Medicare Advantage policy when you're already enrolled in a supplement plan.
Enrollment differences
The enrollment windows are different for both. You can join a Medicare Supplement plan in the first six months, starting when you're 65 and enrolled in Part B. Joining may not be possible after that. That's why it is best to make this decision early when you first enroll in Medicare because this opportunity fades quickly.
Medicare Advantage enrollment can happen at different times. From January 1 to March 31, a period known as the Medicare Advantage Open Enrollment Period, you can switch from one Medicare Advantage Plan to another. From October 15 to December 7 (Annual Enrollment Period), you can go from Original Medicare to a Medicare Advantage plan, or from one Medicare Advantage plan to another.
Benefits
Medicare Supplements are designed to take care of out-of-pocket costs. Not all Supplement policies cover the same types of out-of-pocket expenses, and if you turned 65 on or after January 1, 2020, you won't be able to get one that covers the Part B deductible. But you can get covered for costs like Part A hospital coinsurance, the first three pints of blood, and Part B copayments. You can get Medicare Supplement coverage in any hospital in the U.S. that accepts Medicare.
Medicare Advantage covers more services but doesn't eliminate out-of-pocket costs. In this case, you can get covered for treatments like those for dental, vision, and hearing. This way, you won't have to enroll in an additional insurance policy to add coverage that Original Medicare doesn't have. Unlike Medicare Supplements, Medicare Advantage coverage is limited to a network.
One is an insurance policy, the other one isn't
Medicare Advantage is an insurance policy that pays what it can at once. Medicare Supplements aren't like this, because Medicare Supplements can only work after Medicare has paid its share. Medicare Advantage's coverage doesn't rely on anything else to cover first. Medicare Advantage is a plan you have to have by itself.
Which one will you join?
At AJ Health and Wealth, we can help you weigh out your options and make sure that you make the best decision for you. We are knowledgeable and compassionate, and we take our customer service very seriously. Whether it's Medicare Supplements or Medicare Advantage, we can help.
Filed Under: MAPD Vs Medicare Supplement
|
Tagged With: medicare brewton alabama, medicare crestview florida, medicare milton florida, medicare pace florida, medicare pensacola florida